---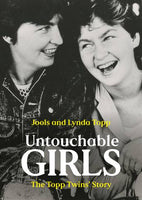 Untouchable Girls: The Topp Twins' Story by Jools Topp and Lynda Topp
Discover the captivating journey of New Zealand's beloved comedic and country music duo, the iconic Topp Twins, in their very own words. This engaging narrative unveils the incredible story of Jools and Lynda Topp, hailing from the rural town of Huntly, and how they transformed into cherished Kiwi icons and television sensations.
For over four decades, the Topp Twins have enthralled audiences with their unique blend of original country music and comedy. Through the lens of their own experiences, they recount their adventurous lives, sharing side-splitting anecdotes and heartwarming tales that have defined their remarkable careers.
From their renowned characters like Camp Mother & Camp Leader to Ken & Ken, the Topp Twins have not only left a lasting mark in the world of entertainment but have also been steadfast advocates for their political beliefs. Their unwavering stance on important issues has earned them the love and respect of New Zealanders from all walks of life.
Within these pages, you'll find never-before-told stories and captivating images that create a nostalgic and historically significant record of the lives of two pioneering and inspirational women. The Topp Twins' narrative is not just their own; it's a reflection of the times they've lived through and the transformative impact they've had on New Zealand's cultural landscape.