---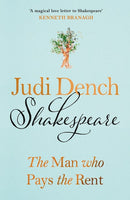 Shakespeare: The Man Who Pays The Rent by Dame Judi Dench
Delve into the World of Shakespeare with Dame Judi Dench: An Intimate Series of Conversations
From sharing the stage with a live snake coiled in her wig to frolicking au naturel in a countryside painted green, Dame Judi Dench has left no stone unturned in her dedication to the works of Shakespeare. Now, she's ready to unveil the secrets behind her illustrious career spanning seven decades in this captivating book.
As you turn the pages, Dame Judi offers an exclusive look into every Shakespearean role she's embodied. Through a series of enlightening conversations with actor and director Brendan O'Hea, she navigates Shakespeare's timeless plays with unparalleled insight. Within these pages, you'll uncover the hidden nuances of her rehearsal process and gain insight into her creative collaborations. All of this is relayed with her trademark mischievous humor, intertwined with a dash of side-splitting anecdotes.
Prepare to embark on a unique journey through the world of Shakespeare as Dame Judi Dench shares her wealth of experience and unravels the enigmatic tales behind her iconic career.